Recently, the NBA 2K League and Monumental Sports and Entertainment confirmed that the upcoming District E would serve as the official home court for the League's first 2023 season. Sponsored by Ticketmaster and situated close to Capital One Arena in the core of DC.  From March 8 through August 5, players may enter several events and the 3v3 and 5v5 playoffs for a chance to win a share of $2.5 million in cash prizes.
As one of the NBA 2K League's earliest investors, Monumental Sports & Entertainment is "honored to host its most privileged esports athletes in the world" at its new esports and entertainment facility in the nation's capital, according to a statement released by Zach Leonsis, the President of Media & New Enterprises. The League has planned an exciting season, and we can't wait to see gamers from all over the Mid-Atlantic come to District E for a once-in-a-lifetime event. Those who aren't already esports fans are sure to become converts after seeing the electrifying action and other perks that District E has to offer.
That won't happen until the 2023 season, but the NBA 2K League will experiment with 3v3 and 5v5 halves for the first time that year. On March 8, the NBA2K League will hold the NBA2KL 3v3 SLAM OPEN, sponsored by Coinbase, with the NBA2KL 3v3 Finals taking place on Saturday, May 13. On May 23 at THE TIP OFF, sponsored by AT&T, the 5v5 tournament will officially begin, and on August 5 at the NBA2K League 5v5 Finals, the tournament will officially conclude. What's icing on the cake is that WynnBET Massachusetts promo code will have great promotions to take advantage of in March as both the League kicks off and the state of Massachusetts legalizes online sports betting.
District E is a live-event theater that will be around 14,000 square feet in size and will host esports, entertainment, seminars, culinary experiences, and community events every day. Before and after each game, there will be activities for fans of both the Capitals and the Wizards to participate in. After consecutive victories in 2020 and 2021, Washington's chances of completing a three-peat were dashed when the host team for the whole season, Wizards District Gaming, was defeated by Bucks Gaming in the 5v5 Finals of the 2022 season.
NBA2K League 2023: Top Prospects to Watch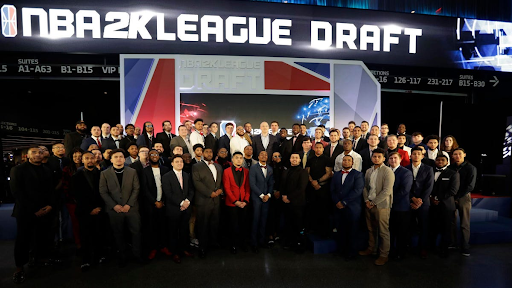 It seems like the year 2023 will be a great one for the NBA 2K League, as some of the most skilled players in all of professional esports will be at the top of draft prospect rankings. Amber "IiCraftI" Anderson, who is recognized for her shooting ability, and Artreyo "Dimez" Boyd, who is renowned for his innovative playmaking talents, are at the top of their respective rankings. In addition to Meason "xMilo" Camille, Hamdi "NotEliteShooter" Deria, Ryan "Spam" Harris, Donovan "SELDUM T5" Mass, and Tariq "Greens' Reed, this pool of outstanding talent has a lot of other top-tier competitors who have a good chance of becoming as leaders in their respective fields.
Their collective qualities make them very valuable assets not only to teams competing nationally but internationally as well. Their raw but seasoned talents make them great prospects to take on the top competitors in the world later this year. With so much promise already displayed by each individual, spectators should absolutely remain tuned throughout the process building up to competition day.
Final Words
The NBA2K League is the world's largest professional esports league for basketball gaming, and it is only getting bigger. With the 2023 draft just around the corner, anticipation is building. MSE has announced that they will be the host of the 2023 NBA 2K League season. This new esports league will bring together some of the world's best gamers and competitive teams, with plans to bring together some of the world's best gamers and professional sports organizations associated with MSE. The 2023 season will provide training, development, and competition opportunities for players throughout North America as well as promotional activities for corporate partners.
As part of the agreement between MSE and Take Two Interactive Software Inc., a joint venture was formed called "Wizards District Gaming," through which all esports business operations related to Washington wizards would run. In addition, Wizards District Gaming has been appointed exclusive operator of live events within 19 states in the mid-Atlantic region from Virginia down to the Florida peninsula. This historic deal marks another milestone in a larger push by traditional sporting franchises into esports markets across different genres like basketball, soccer, ice hockey, etc.
To kick off this initiative, MSE is set to host several weeks' worth of virtual camps during summertime at stadiums across the capitals area as well as other locations owned or operated by organization members like Chicago Bulls or Philadelphia Eagles. This is an exciting opportunity for fans of both the Washington Wizards and NBA 2K League, and we can't wait to see how it all turns out.