Since its release in 2006, Roblox has captured the hearts of children all over the world with its unique adventures. While seemingly intuitive to kids, many parents have a hard time wrapping their heads around the platform. Should parents introduce their little ones to Roblox? This guide tells you what you need to know.
What is Roblox?
Roblox is not a game in itself; it is an "imagination platform" where players can create and play out countless experiences. There are currently over 40 million games to choose from, with content from school life to fighting off zombies and everything in between.
Furthermore, Roblox is an online experience where gamers of all ages can interact and discover what's out there. With over 150 million players, how does a parent keep their child safe?
Roblox Concerns
The platform received a 10+ ESRB rating in the United States and a 7+ rating from PEGI in the UK. Common Sense Media recommends Roblox for ages 13+. Let's look at some of the reasons Roblox has these ratings.
Scary or Violent Themes
Many Roblox games feature peaceful environments where players get along and work together. However, some have themes that lean on scary experiences or violence. For instance, Piggy is a survival game where players try to escape being chased down by an infected pig.
Other content revolves around attacking computer-controlled monsters or even fighting other players. Roblox explicitly states there's no blood in the game, but creators can sometimes sneak it through the system's filters.
In-game Purchases
Your kids will ultimately have their own Roblox account, where a majority of content is free to play. However, if not careful, it is possible to make in-game purchases that cost Robux. Robux is Roblox's currency, often purchased with real funds via credit card. If left to their own devices, kids can spend a lot of hard-earned money on cosmetic items or game upgrades. This has led to incidents of parents discovering they have been charged hundreds or even thousands of real-world dollars on inadvertent purchases made by their kids.
Player Interaction/Scams
Since Roblox is an online player platform, your kids will be subject to other players as they game. Most of these players will also be children, with the core demographic ranging from 9 to 15 years of age. Still, there's nothing stopping older gamers from logging in and playing as well.
Any other player can ask for passwords or personal information that can compromise your child's account. Some gamers may try to think unsuspecting players into giving away in-game items or Robux.
Bullying can also be a concern when players choose to pick on others. Kids who don't play a game well or struggle in areas can be targeted. There are also instances where a child could be addressed by a predator.
Roblox to the Rescue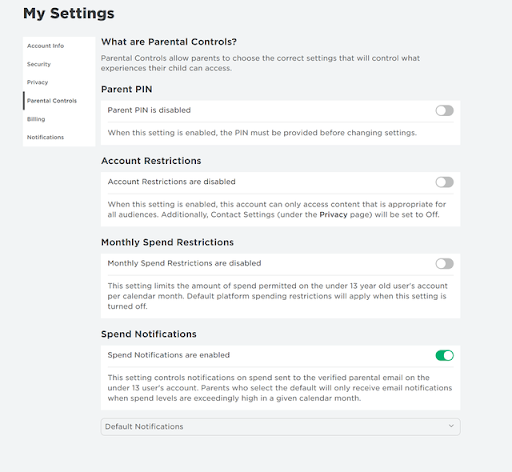 Not all hope is lost, as Roblox puts safety above all else. The platform has several built-in tools to help keep kids safe while enjoying content.
Moderating Games and Pictures
All of Roblox's content is user-created, and the platform doesn't leave anything to chance.
The platform has a series of moderators to check out games and pictures that users upload for others to see. Anything inappropriate is taken down as quickly as possible to keep kids from stumbling into something they shouldn't. Players also have the ability to report content that isn't allowed.
Filtered Chat
When your kiddo sets up a Roblox account, they must list their age. Chat is heavily filtered for everyone, but even more so for anyone 12 years of age and younger. Swear words, sexual references, and bullying remarks are at the of the list for filtered content. It's also possible to hide the chat window or limit it so there's no risk of kids seeing something they shouldn't.
That being said, most of Roblox are other kids simply looking to enjoy playing the many games the site has to offer. As parents, it's a good idea to set ground rules about who can chat and to whom they can chat to.
Payment Restrictions
Due to incidents of children spending real-world currency on in-game items using their parents' credit cards, Roblox has implemented spending restrictions, which can be found in the Settings > Parental Controls section.
Privacy Settings
Roblox is choc-full of privacy settings that parents can adjust to keep content safe for younger players. You can adjust who your kids can connect with or befriend. There are ways to limit the games your children play and the amount of Robux they can spend each month.
There are several other settings you can play with to protect little ones, and the list increases for players under 12. Best of all, you can create a four-digit PIN to prevent kids from changing your settings.
View Histories
As a parent, you can go into your child's account and see who they've been chatting with and what content they've been spending time on. It's also possible to view item purchases, trade history, and any creations they've made.
Keep Kids Close
It's best to not let your kids play where you can't see what they're up to. Keeping visual tabs on the games they choose and their conversations is a great way to prevent something unsafe from happening. Roblox may be designed for kids, but don't let that stop you from logging in and bonding with your child over a game.
Also, be sure to have direct and transparent conversations with your little ones about what they should and should not do while playing. Share with them what to watch out for and how they can keep their information safe. If they see something amiss in a game, make sure they know to tell you about it.
Benefits of Roblox
Roblox is a source of entertainment, but it can be so much more. Here are just a few of the benefits kids and parents can glean from playing.
Learning
Roblox can be an amazing place for kids to learn while having fun. Many games require logical thinking to solve puzzles, while others force little ones to practice math to move to the next stage. Others still introduce coding basics and introductory programming skills.
Creating
With every digital ounce of its content user-created, children have unparalleled opportunities to create content of their own. Similarly, most Roblox games have an open-world feel, allowing kids to play however they see fit.
Teamwork
There are also experiences requiring players to work together and accomplish a common goal. Such tasks promote teamwork and can bring out your child's leadership potential when helping a group through a difficult spot.
Final Thoughts
There's no way to keep kids completely safe from the dangers of Roblox, but the vast majority of its content and player base are harmless. The platform can be a great tool for your little ones to be creative develop their logical thinking and social skills. I personally allow my seven-year-old to play Roblox. I just carefully monitor the games he plays and even try to experience content with him when I'm able.
By Jerome Morris — A gamer geek fascinated by scripts and dialogues that turn a good game, into an amazing one. Freelance game writer, and dialogue fanatic currently working on developing experiences in the gaming industry