Slots developers aim to hit all sorts of demographics. This is why slots are very diverse when it comes to themes. Anyone who has been playing these games for a long time knows many are designed around popular IPs. There are slots with movie themes, TV show themes, sports themes etc. It's pretty much impossible to try out all of them, even though casinos want you to keep playing. Luckily, a lot of promotions can give you free spins. The market has become so competitive that you can find even free spins promos for $1 at low-deposit online casinos. However, the free spins deals are only available on specific games. The slots we are going to review are rarely a part of big free spins promotions. 
Slots that are themed after video games are intended for gamers. Some of these IPs are so expensive that it just doesn't make sense for studios to purchase a license. Instead, they are designed to clearly represent a specific game without outright stating the name of the IP. So, let's see some of the coolest online slots that video game fans will love. 
League of Champions
Even if the name is slightly different, everything else about this slot clearly represents League of Legends. This is a massive MOBA title from Riot and one of the most spectated eSports events. League of Champions was published by TopTrend Gaming and the symbols featured in this slot are some of the most difficult to master League's champions. 
Thresh

Lee Sin

Ashe

Veigar

Darius

Katarina's Daggers
The scatter symbol resembles the challenger icon from the game, and the Wild symbol is the Leagues logo or big "L." If you love this IP from Riot definitely check out League of Champions, the animations or designs are spot on, and you will easily recognize the iconic LOL characters. 
Street Fighter II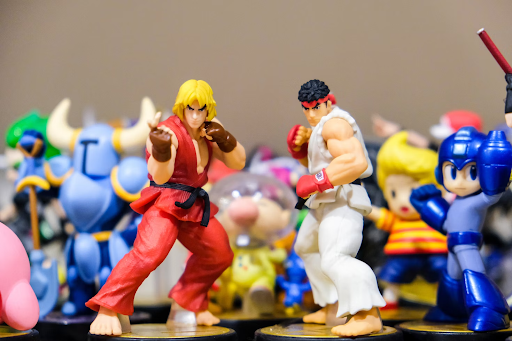 If you grew up playing Street Fighter at the Arcades then you will definitely love this release by NetEnt. It's a fully licensed IP that features all of the iconic characters from Street Fighter II:
Ruy

Ken

Guile

Chun-li

Honda

Blanka

Bison

Vega
Additionally, this is a cluster slot with a cascade feature so you can easily chain a winning combo that brings in a lot of coins. While you are playing the two characters on the screen are fighting. Also by chaining wins you are filling up the wild gauge and if you fill it up a character will use a special move. This will change certain symbols on the play grid into wilds and give you more victories. 
Finally, there are two outcomes of the battle. If the character on the left wins you enter free spins round. If the character on the right wins you get a car smash bonus game. Bear in mind that if you change the denomination mid-fight, the health bars will go back to full. In other words, any progress you made towards the bonus rounds is nullified.  
Pocket Mon
It is easy to figure out which IP this slot by Spadegaming is trying to impersonate. You guessed it, it's Pokemon. The mons are significantly altered in this game but it's fairly easy to connect the dots and figure out which Pokemon inspired which symbol. 
Pidgeot 

Garydos

Blastoise

Charmander

Venesaur
Pikachu is the scatter symbol and Red is the wild symbol. Since both game and anime are very popular it's easy to see why Pocket Mon has so many fans in the gambling community. Also, the earlier Pokemon games also had casinos and slots as part of certain towns. So, for many players, this brings up happy memories.  
Resident Evil
Another IP from Capcom that's been turned into a very exciting slot game. Resident Evil 6-inspired slot was published by Skywind and it's clear that developers love this franchise. There are 3 mini-games or missions that you can trigger depending on what symbol combination you get. 
Where to Play
Unfortunately, not many casinos host these titles. The only one that's easy to find is Street Fighter because it was released by NetEnt which is a big brand in the iGaming industry. It will be far easier to find sports-inspired slots, especially in Canada. Canadians love to bet on sports and by extension they are more likely to play sports theme games. Luckily, many sites that host demo versions of slots will have these games available. You can play there, see if you like them, and then find operators that host these titles.   
Conclusion
There are many other casino games inspired by popular IPs from the gaming world. Lara Croft, Hitman, Call of Duty and Zuma are just some of the examples. However, hardcore fans of slots gravitate towards certain features, not themes. So, it's easy to see why games with progressive jackpots, and bonus buys perform better. That being said, there is still a decent market for slots that are inspired by video games. In other words, we will continue to see future releases that cater to this audience.